So National Apprenticeship Week is drawing to a close for this year, and I realised what most of you don't know is that I am on an apprenticeship myself. There are honestly times I even forget it myself as I'm doing the exact same work as my more experiences colleagues and I'm treated exactly the same as every other employee in the company.
I am working towards a Level 3 City & Guilds in Social Media with the help of The Juice Academy and Total People. I found the application process my mistake. I was unemployed and looking for a local job and one company was hiring a social media apprentice in my town, so I applied. I was taken through the application process for the Juice Academy and I ended up receiving an email inviting me to a boot camp selection process a few weeks later.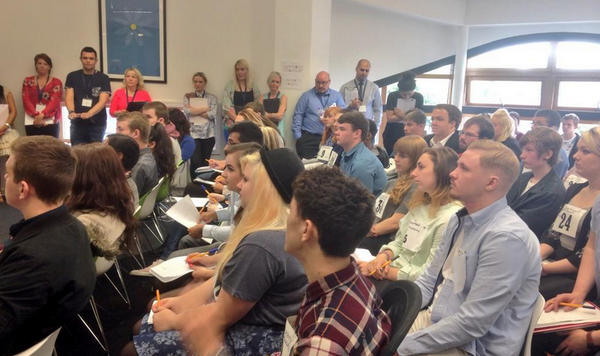 I attended the boot camp with 30 other applicants, and we all looked terrified. We did a series of tasks and mini interviews with around 10 different employers who were looking to hire people like me. The employers mulled around all day, we tweeted, vined and sold ourselves to the employers who chose a number of people, not including me.
I was invited back the week later for an interview with just one employer. Three other applicants from the boot camp were also invited and we all had another mini interview with the new employer who had missed the boot camp. None of us got the job and we were all invited back to the next boot camp a few months later.
It was just as terrifying the second time round, but I knew what I was doing. A whole new batch of employers, the same tasks, but new people to interact with and share my ideas with, and this time I made myself known. It worked and the week after I was starting my new job at a digital marketing agency in Manchester which is where I am still working. I attend the Juice Academy for training and we learn about social media for businesses and get insights from industry leaders, digital media lawyers and the people creating new technology to make social media more accessible.
I have met friends that I hope I will never lose and skills that will build the foundations for the rest of my career in marketing and social media. My choice to not go to university was one I had started to regret after spending half a year on job seekers allowance, but it was completely worth it for the role I am currently in.
If you are aged 16-23, live in the North West of England and do not have a degree, why not see for yourself how life changing a job in social media can be? Apply for the next Juice Academy bootcamp in April and meet employers like Tactus Citizen, The Intu Trafford Centre and Jump Nation. Apply
here
to become part of the social media revolution.
https://pbs.twimg.com/media/Bwr01t1IYAE-dPn.png
https://twitter.com/TheJuiceAcademy